Creating a 7″ vinyl sleeve is as easy as 1, 2, 3!
Download our 7″ template here in either PDF, Photoshop or Adobe Illustrator.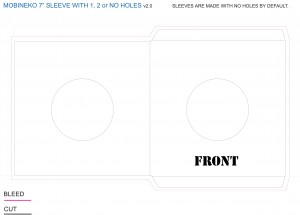 This is the first thing you'll see – an empty template for placing your artwork over.
REMEMBER: Do NOT change the dimensions of this file, resize or otherwise. You must ONLY place your custom artwork on this template.
If you do not want holes, simply remove the hole image from the template.
If you only want 1 hole, remove the hole you do not want.
If you want both holes, leave it as it is.
Here are two examples for your review dithered to JPG (remember, save your original in the format you downloaded (PSD, AI or PDF).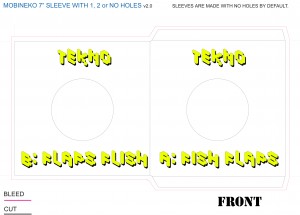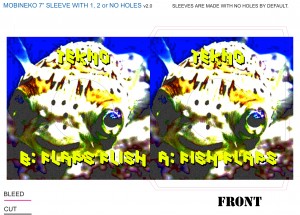 And if you ever have ANY questions, please contact our support team! We will be happy to assist you in creating your artwork and assisting you in placing your order.
Enjoy you're own 7″ custom sleeves!