We'd like to take a moment to show how to fill out an order form. You may download the example, as an Excel worksheet here: GRA13-order
Here is the top of the Excel sheet: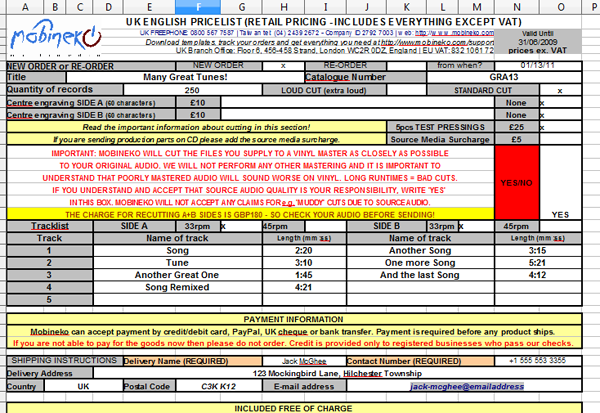 Take note to check if this is a NEW ORDER or a REORDER.
1. Enter the Title of your release
2. Create your own Cataloug number. For explaination of why you need a Cataloug number, click here.
3. Enter the Quantity of records you are ordering.
4. Select if you want a Loud or Standard Cut.
5. If you want centre engraving (text on the inner rim of the record), enter this information or tick None.
6. If you want Test pressings, put an X here.
7. Read the important information in Red and type Yes if you agree.
8. Select if the record is 33RPM or 45RPM
9. Enter Track titles and times
10. Let us know where the final product should be sent! You are required to enter a phone number, or our shipping courier will not be able to deliver. They need to contact you for tax purposes.
Not so bad, right? Let's move on to the center of the sheet.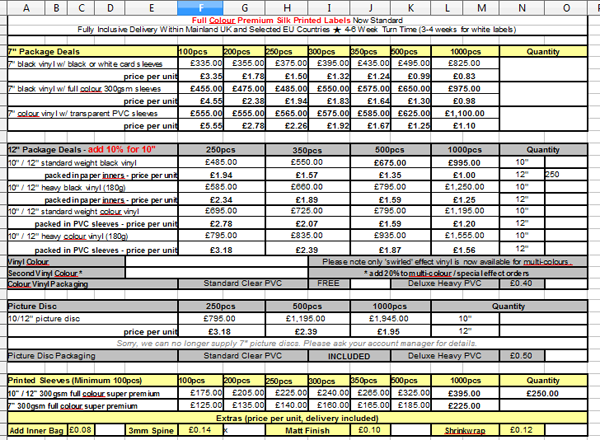 Select the quantity of records you'd like to order. If you want a quantity that is not listed, be sure to contact your sales rep to see if this is possible. Also note, for US order 12″ minimum order can be 100 pcs.
If you want special addons to your sleeves, such as Inner Bags, Spines, Matte or finished Shrinkwrap, please be sure to tick an X next to these below the sleeve order.
If you do not order sleeves, your vinyl will be shipped in just white paper inners.

If you have ANY special requirements (like split shipment, or special packing information) be sure to discuss this with your sales rep first, and then make note in the Special Requests field.
Enter your information, save the file.
Once you upload your audio and artwork, send an email to clients@mobineko.com for your order to being processing!
It's that simple. If  you ever need any help during your ordering process be sure to email our support team, we will be happy to assist you!