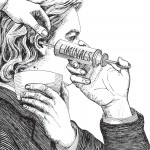 I was trying to figure a way to describe the music of the Liminals. A sonic-escape from reality, a aural landscape.. but that just doesn't do them any justice. Best described on their record companies site,  they are "Music for imaginary dancefloors. Music for walking, swimming or dancing in your sleep. Not so much underground as underwater: a loop in an ocean of sound, the sound of an ocean in a loop."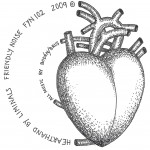 This was their label, Friend Noise's first vinyl release, and boy are we proud! The record has 4 tracks on a limied 250 pc run, with beautiful hand drawn artwork (pictured left and below) provide a visual for the basic, yet extraordinary sounds this record achieves. It was released in November '09.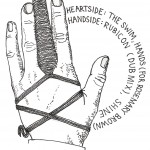 The band lineup includes members from Different, Tomas Bodén and Anna-Karin Brus. Their noted influences are the likes of Seefeel, Tim Xavier, Orbital, Can, Juan Atkins, Sabres of Paradise, Frankie Knuckles, Riccardo Villalobos, Inner City, John Tejada, SPK, and Isolée. Liminals are now on Technogenic records and have a new release coming out this month. See the videos released by the band on Vimeo. The Dendrites from liminals on Vimeo. Liminals – The Swim from Sebastian Rozenberg on Vimeo. For even more details, visit their Facebook page.