Best described as "rooted firmly in folk-inspired," and containing "strains of cosmic Americana, leavening rustic folk-pop with psychedelic touches and spacey ambience, not to mention an autumnal sheen which conjures images of reddish-brown leaves crunching under foot, while the morning sun beats down on dew-laden grass and mournfully melts away early signs of frost" this project, created by Erik Jeor of Sweden is quite a musical and visually inspiring project.
To me, I hear many influences first of all, David Bowie, vocally, and Neil Young, musically and emotionally. Some tracks even border on a less-poppy but eerily similar vocals to the likes of They Might Be Giants, and even Canada's Moxy Früvous Very 60′s psychedelic pop/rock, trippy, relaxing, and memorable.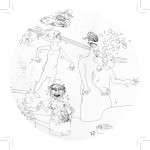 A few months ago we pressed a 2 record set for this project, who notably, recently appeared on Sweden's Channel 4.
They created and released their record through Kning Disk where a copy of their album can be purchased as well as other albums.
You can listen to their track from the album, "Dress the Ship in Black" from Soundcloud.
Balroynigress – Soft Sphere by Kning Disk
Also catch them on MySpace, and Last.fm.