Peter and Kerry are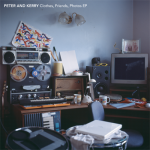 a duo on Tape Club Records, consisting of Kerry Leatham and Peter Lyons. Comprised of peppy and also mellow indie-pop tunes, this 6 song EP is likely to give you goosebumps and an enjoyable listen.
We pressed their disc for a 2011 release, limited to 500 pcs. They even have a great music video!
Check out a well-written review at UK Music Review.
Be sure to also check out the music video on YouTube.