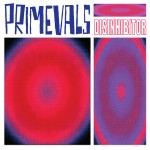 Influenced by the likes of MC5, The Stooges, Captain Beefheart, Pharoah Sanders, The Gun Club, The Cramps and 1960s US garage rock – the Primevals were formed in 1983 in Glasgow, Scotland and have remained (in one lineup or another) together for nearly 30 years.
Their 2010 release, "Disinhibitor" was released on Triple Wide records and pressed with Mobineko on limited 200 pcs!
Rock on, Primevals! Check out their Facebook page here.