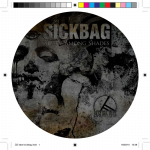 They always say, there's something in a name. Sickbag is definitely a unique band name for this 5 piece hardcore band from Estonia. These guys are one of numerous heavy rock/metal bands that were've pressed.. and we're quite delighted!  They released a 6 tracks album, recorded live at Paris' Studio Sainte Marthe.
A mix of hardcore metal, and punk with an urgent, fast paced feel.. these guys do grindcore justice.
Check out their Bandcamp and MySpace sites.
Below is their Superpack template design for reference – if you're designing a Superpack, these guys definitely have great artwork! Lead by example…