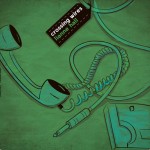 If I could imagine what music would look like, I believe Lianne Hall has found the way to visualize this. Musically, and vocally.. stunning, beathy and airy. Each breath feels like a journy, each note, alone and very visible in the sound spectrum. All tones are so vibrantly clear and stand out on their own, creating a musical feeling like no other.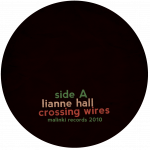 Catchy tunes, great production value and simple, yet artistic product design came along with their 2010 release, "Crossing Wires", which we pressed on 12″ vinyl in a limited 500 piece, WHITE vinyl release.
Lianne grew up in Peterborough, UK and started writing as a teenager. She released her first full length album in 2006, titled "Abandon Ship". In 2007 she met up with Orbital musician Paul Hartnoll and the duo co-wrote an album entitled "the Ideal Condition". She has since also released an album "Making Spaces", as well as this – "Crossing Wires" in 2010.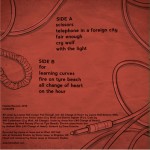 She has the album available for download and purchase (With finished product images by Mobineko!!) at her BANDCAMP link. She also has an Official website, as well as a MySpace page.
Simple.. yet complex, and beautiful. Take a listen.
(Unrelated commentary:
I love inspiring music. It is great to work for a company that still, in and of itself promotes real music, real musicians and independent artists. Otherwise we might not hear the likes of Lianne Hall and so many others. There's nothing like the sound of vinyl spinning on a table, the crackle, the flipping, the liner notes.. Please, keep independent music, and the physical medium alive!)