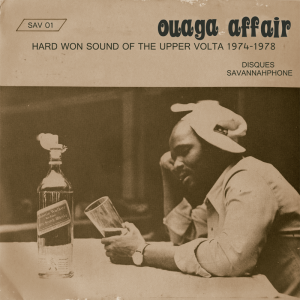 A few years ago we got to press a double vinyl set of rare African recordings. One of my favourite releases, with it's historic and amazing recordings. Here's a quick writeup from a website about this release:
"Savannaphone have compiled one of the records of the week in this remarkable documentation of early recordings from Burkina Faso. Also known as the Upper Volta, this region of West Africa had little resources to commit the newly emergent Urban music of their country onto record, meaning the CVD label, whom these tracks are all licensed from, had to make the long journey to Kumasi in Ghana and Benin to record and press up poorly mastered copies of this amazing music. All the tracks here were recorded between 1974-78, featuring a large number of cuts by or featuring Super Volta, the label's key band and covering previously unheard fusions of psyche-rock with heavy funk and a deadly African flavour. The knackered quality of some of the tracks actually enhances the psychedelic experience, at times sounding like Jamal Moss is attacking them with his unhinged EQ techniques, but ultimately we're just grateful that these tracks even exist on record, giving us an invaluable glimpse into another time and place entirely. A massive recommendation for anyone who picked up the amazing 'Psyche Funk 101′ comp or has fallen in love with the Honest Jons label!"
If you're lucky, you can still find copies of this online, but it has sold out of many places very quickly!!