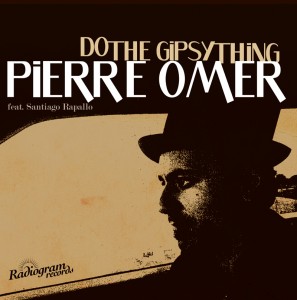 "Do the Gipsy Thing" Dead Brothers founder member Pierre Omer's second solo album is due april the 9th on Radiogram Records!
One year after "See what's hidden" his debut album Pierre Omer is back with "Do the Gipsy Thing" a new album that was recorded on the road between Madrid and the South of France with spanish drummer Santiago Rapallo.
"Do the Gipsy Thing" takes you down into gold mines in Africa, tells you the story of Willy Wolf (a swiss butcher), dances to the sounds of Haitian drums, gives you primitive switzerland cooking lessons, explores american roots music, gives you gipsy driving lessons, you'll hear a cover of "Shadazz" a song by the New York city band Suicide, you'll hear beautifull lullabies and much more!!!
Pierre Omer sings, plays guitar, piano, accordion, bass and glockenspiel. Santiago Rapallo plays drums, lapsteel, vibraphone, organ, ukulele and sings backing vocals.
Guest: Julian Israelian: Homemade lapsteel (Samsonite orchestra) and drums.